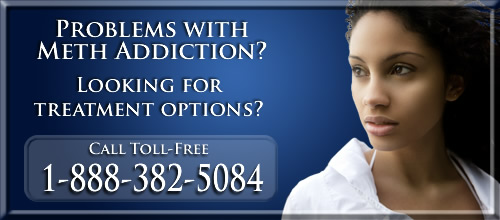 Meth in the News
'It Takes Ahold of You' Are Super Moms Turning to Meth to Do It All?
June 18 — On the surface, Debra Breuklander was a hard-working mother of three, a nurse, with an immaculate home in a middle-class, Midwestern suburb. But she had a secret.
That secret — an addiction to the cheap and easily obtained drug methamphetamine — cost Breuklander everything, and it earned her a bunk for 35 years in Iowa's Mitchellville Correctional Facility.
"It takes ahold of you and no matter what kind of super mom you want to be it will take you over," Breuklander told Good Morning America.
Sheigla Murphy, director of the Center for Substance Abuse Studies at the Institute for Scientific Analysis in San Francisco, says that methamphetamine — often called "meth" for short — is the drug du jour for some super moms who are trying to have it all.
"When they begin to use methamphetamine, they feel more energy, they feel more mastery, they feel like they can get it all done," Murphy said. "They can take care of their kids, they can do their job, sometimes two jobs. They can meet what is for many women today, an almost impossible ideal."
Methamphetamine is a highly addictive stimulant that can be smoked, snorted or injected. Some women mix it with coffee, calling it "biker coffee." The drug produces an euphoria similar to cocaine, but lasts longer, and is made from common household ingredients. Studies have shown that it damages brain cells, and that the damage persists even months after people stop using it.
Also known by the names crank, ice, speed or crystal meth, it is a drug more commonly associated with teens at rave clubs. But in 1999, adult women using meth made up 47 percent of patients in substance abuse programs.
A Woman's Drug?
A woman's role of taking care of the children and working puts them at particular risk for trying the drug, Murphy said.
"Speed [one of the drug's nicknames] is a drug that people get into for functional utility," said Dr. Drew Pinsky, a substance abuse expert and an ABCNEWS' contributor. "Women today have unique circumstances. They're expected to be all things, all the time, and that's unrealistic. Not only are they juggling job and kids, but they are supposed to look good, and keep the weight off."
That was the case for 35-year-old Cindy Nichols, a divorced mom with two children. She is now a recovering methamphetamine addict who has been clean for seven years, and is working as a full-time counselor at a California recovery center.
Nichols, who had used meth in high school, really began using it in earnest after she got married and became a mother. It made her feel good, "like she could do or be anything," Nichols said. In addition, she was thin without ever having to work out because the drug kills hunger.
Now, Nichols looks back in horror at the things she would do while on the drug, believing that it actually made her a better, more focused and energetic mom. She worked at a family fitness center, and would baby-sit her own and other children while she was high, Nichols said. She also drove a car with her children as passengers while she was high on the drug.
Five years after the heavy use of meth started, Nichols was at the bottom of a long decline. She was divorced, on welfare, living with her two children in a single bedroom house, with a car that barely ran. Drug use was the main factor in her divorce. On Mother's Day, 1995, she finally woke up and decided, "I can't do this anymore," and that was when she decided to quit the habit, Nichols said.
The Price of Having It All
In Iowa, where Breuklander is incarcerated, 43 percent of women entering the prison system this year said meth was their drug of choice, compared to just 29 percent of men.
"You're supposed to have it all," Murphy said. "You're supposed to work at a job and take care of your family. And initially, women feel that methamphetamine helps them to achieve this."
Breuklander, a former nurse who was on disability because of back problems, said she got started on meth because of her financial troubles, and because her boyfriend was selling it. But no one would have known she was an addict by looking at her.
"I was continuing to function, which made me a functioning addict which to me made it even worse because I didn't see that I had a problem," Breuklander said.
Now she has turned her problem around, is clean and serves as a mentor to the nearly 100 women in the Iowa prison who have "been there, done that," and are paying for it.
Pinksy said that family and friends can look for various signs of methamphetamine addiction.
A key one is paranoia, a preoccupation with people close to them, such as family members or co-workers. Other signs include irritability, long periods of sleeplessness and increased motor activity (they can't sit still).
Methamphetamine can cause chest pain, high blood pressure and hypertension, according to the National Institute on Drug Abuse. Some experts have linked use of the drug by pregnant women to a host of problems, including stillbirths, premature births, cardiac defects and persistent cognitive and behavior problems.
Recovery from meth addiction or any other type can't be forced, and can only occur when the person is ready, Pinsky said. But staying clean is relatively easy for meth addicts, because it doesn't have withdrawal symptoms, other than for women craving the return to what they think is perfectionism.
BOSTON, March 27 - For the first time, brain scans of people who used methamphetamines, also known as crank, ice, speed, or crystal meth, show that the drugs damage brain cells and that this damage persists even months after people stopped using them.
The study appears in this month's Neurology.

"This is an extremely important study," said Dr. Alan Leshner, director of the National Institute on Drug Abuse. "In the old days we used to talk about the brain on drugs with inexact metaphors like eggs in frying pans. Here you've got brain scans of living breathing individuals and what are the consequences. They are very vivid and candidly upsetting findings."

Crank Coming Back
Methamphetamine, a stimulant, is a drug that has been used since the 1960s. Over the last decade, methamphetamine, which can be smoked, snorted or injected, has been marching back into popularity in several regions of the United States.

"It has gone from being concentrated in the Southwest," says Leshner, "up the West Coast to the Midwest" where, he says, there is now "nothing short of a methamphetamine crisis." A 1996 survey found that nearly five million Americans have used methamphetamine at some time in their lives - up from roughly 3.8 million in 1994.

Tests in animals have shown that high doses of methamphetamine damages brain tissue. And recent studies demonstrate that methamphetamine users may have lower levels of dopamine, an important chemical for brain function.

Evidence of Hurt Brain Cells
In this study the researchers found evidence not only of chemical changes, but damage to the cells themselves. They did so by looking at a brain chemical called NA, or N-acetyl-aspartate, which is found inside neurons. If NA levels are low, that's a sign that neurons are either lost or damaged. Prior studies have shown low levels of NA in people with Alzheimer's disease, multiple sclerosis and several other brain diseases.

Using a brain scan called proton MRS, or magnetic resonance spectroscopy, the researchers compared NA levels in 26 methamphetamine users and 24 people with no history of drug use. Methamphetamine users showed a five-to-six percent reduction in NA compared to non-users.

"NA is only present in neurons and neurons are the cells in the brain that people use to think," said lead researcher Thomas Ernst, an assistant professor of radiology and neurology at the Harbor-UCLA Research and Education Institute in Torrance, California. "What our study implies is that there is damage to neurons or loss [of these brain cells] to the user, which is not good."

Damage Persists
"It's important to realize," Ernst said, "that the people we looked at in the study had not used methamphetamines for an average of four months, and we still saw significant damage to the NA." Studies in rhesus monkeys have shown that brain damage from methamphetamine persists up to four years.
In addition, the more methamphetamine Ernst's subjects had used during their drug careers, the more damage he saw.

The study does not show whether this damage affects the way methamphetamine users think or behave. But it's well known that former methamphetamine users often have lingering behavioral problems, including paranoid psychosis, depression and memory lapses.

"What's significant here," said Leshner, "is that the changes [seen by Ernst] are exactly in brain areas that could account for the behavioral changes." In addition, Leshner said that unpublished data funded by his agency demonstrates that former users with the largest behavioral problems do indeed have the most damage.
From Queen to Convict
Former Pageant Winner Shares Cautionary Tale
T E M P E, Ariz., Feb. 25 — When Mistie Kline was crowned Miss Teen Arizona in 1994, the 15-year-old blond beauty used her speech to trumpet the importance of good, solid values.

"We need a world we can believe in and trust," Kline told the crowd. "A world we can love and will love us back. We need a world that is God-fearing and law-abiding."
Kline, who had also won previous beauty contests, spent her one-year reign as Miss Teen Arizona working with teenage drug addicts. But in the years that followed, her own world seldom matched the ideals she'd extolled at the pageant.
When her reign was over, Kline became convinced she was getting fat. The 16-year-old started taking "crystal meth" — methamphetamines — after a friend told her that the stimulant would help her lose weight.
Six years later, the decline that began with that initial drug use hit bottom. Police arrested Kline on felony drug and theft charges, and she landed in Phoenix's Durango Jail on a nine-month sentence that included serving on the world's only female chain gang.
Released from jail last week after completing her sentence, the 23-year-old Kline told ABCNEWS' Good Morning America she hopes her story will help teens say no to drugs, and also give pause to girls who fixate on their weight.
"For all these years I used drugs to stay skinny," Kline said. "If I would have know that I was going to wind up in jail, 45 pounds overweight, would I have used? No."
An Ugly Fear
For Kline the trouble really began even before she won the Miss Teen Arizona crown. Behind the bright eyes and big smile she flashed in the spotlight was a desperate fear that she would never be able to stay slim.
She received good grades and played sports in high school, but had always worried about her weight. Kline, who weighed 130 pounds and stood 5 feet 5 inches tall, had muscular legs because of athletics. She wasn't fat, but she thought she was.
Soon, Kline was nibbling on a chunk of crystal meth every day before high school to reduce her appetite. Eventually, she says, she could go three weeks without eating.
"I thought, if I could just be thin enough, I'll be good enough,'" Kline said.
Kline graduated high school and community college, but her drug habit became an addiction. She held down a job, but avoided her family, as well as her friends who did not use drugs.
In June 2001, Kline was arrested twice in two weeks, all in her quest for more crystal meth.
First, she was arrested for being in possession of drugs packaged for sale and a loaded gun. Police were called after she rented a room with a friend under a false name and put $8,700 in a hotel safe deposit box. Police found a large baggie of methamphetamine in her bra and a loaded gun in Kline's pocketbook.
Soon thereafter, police arrested her for driving a stolen car and possessing stolen credit cards. By that time she weighed 110 pounds and her drug habit was costing $150 a day.
"I was on a rampage," Kline said in a recent jailhouse interview. "Nothing was going to stop me. Not family. Not friends. Not anything."
Scared Straight?
The former beauty queen traded her tiara and satin sash for orange rubber slippers and a black-and-white striped jail uniform.
Kline was placed in a disciplined, military-style chain gang as part of her sentence. She lived with two other women in an 8-by-10-foot cell. When they were sent out on work duty, they often were charged with burying indigent children and adults. Many of the adult bodies were those of drug addicts who overdosed, Kline said.
For Kline, completing the burials of the drug overdose victims reinforced the message that she had to stay clean after her release from jail.
The jail conditions hardly befit a former glamour girl. In jail, Kline washed her hair with dishwashing liquid and was not allowed to use a blow dryer for her hair or a razor to shave her legs. She gained 48 pounds thanks to a prison diet that consisted of mostly bread, potatoes and bologna.
Changing Her World
Now that she is out of jail, Kline says she will spend three nights a week in a halfway house for drug-addicted women, where she will focus on remaining sober. Although she will be completing specific types of community service as part of her five-year probation, Kline also wants to speak publicly, as a volunteer, so that she can warn young people about the dangers of drugs.
The time in jail changed her for the better, Kline says. She plans to return to school to study interior design.
About two weeks before her arrest, she confided to a friend that she did not know how to stop using drugs; because her sentence was long, Kline says was forced to get off the drug — cold turkey. With so much time to reflect on her mistakes, she says she prayed daily and built up her determination to avoid jail.
Now Kline said that she realizes she has a lot to offer young people, which is why she wants to share her tale.
The emphasis on her looks and how much she weighed is what led her into trouble from the beginning, she says.
"I realize now that there is more to life than that," Kline said. "I have more substance than what I look like on the outside."

Murder trial told of amphetamines
May 28 2002
A builder accused of murdering three generations of one family took amphetamines on all three days before the killings, a jury heard today. David Morris, 40, of Craig-Cefn-Parc, in the Swansea valley, bought speed from a local addict on each of three days before the killing spree described in court as a "massacre".
Terrance Williams, 45, told a Swansea Crown Court jury that he sold Morris illicit drugs that he would then inject directly into his body. Mandy Power, 34, daughters Katie, 10, Emily, eight, and grandmother Doris Dawson, 80, were bludgeoned to death at home in Clydach, near Swansea, three years ago. Morris is accused of killing all four family members after his sexual advances were spurned by Mrs Power. He denies all charges.

Mr Williams, a married father of three, told the court today that Morris had never been to buy drugs at his home so regularly before. He said Morris had been introduced to him by a local man named Kevin Ring. He added that he only sold amphetamines to friends who he knew already used the illicit drug. Mr Williams said he would buy the drugs himself and sell on one to two grams a time to friends for between £5 and £10.

Morris bought three separate £10 amounts on the Thursday, Friday and Saturday before the murders, which happened in the early hours of the following Sunday morning. On each occasion Mr Williams understood the amount to be for Morris's personal use, he told the court. Mr Williams said: "It was not Dai Morris, he had never come three times on the trot before."

He told the court that he had only seem Morris two or three times since the murders. On one occasion Morris had told him he was waiting to be interviewed by CID officers. On the next Morris had said that the interview had been completed and police had told him that Mandy Power had been found dead.

Cross-examined by Peter Rouch QC, defending, Mr Williams dismissed suggestions that Morris made the three visits after the murders. But Mr Williams admitted that his memory had been affected by a near fatal drug overdose 15 years before.
Meth More Harmful to Brain Than Previously Believed
The New York Times-March 6, 2001

A recent study featured in The American Journal of Psychiatry uncovered the extent of brain damage caused by heavy methamphetamine use. Heavy methamphetamine use causes damage to the areas of the brain that control pleasure and reward, spatial perception and sensation and memory. Some users' brains resembled those of people with early and mild Parkinson's disease.

Evil meth a real threat
By ROB WALTERS
Daily Record staff
Pennsylvania State Police busted a good-sized meth lab the weekend of Jan. 19 — nothing compared to California standards — but one of the biggest this state has ever seen. Right here in Windsor Township, York County. Meth is spreading east.
The bust brought to mind my hometown, Bakersfield, Calif., but not in a fond way.
The city is the county seat of Kern County, a huge expanse of mountains and desert that covers more territory than the state of Rhode Island. The county has many wonderful places to hide meth labs.
In abandoned farmhouses in the southern San Joaquin Valley or in small trailers or sheds in the Mojave Desert, illegal aliens cook meth by following hand-scrawled recipes. They mix an explosive concoction of incredibly dangerous chemicals.
Sometimes the farmhouses, trailers and sheds blow up. Sometimes the lethal mix leaks into the ground, turning the sites into nasty hazmat dumps. Sometimes unsuspecting cooks die from poisons they absorb through their skin.
Biker gangs once controlled the meth network in the 1960s, but for more than a decade, Mexican drug traffickers have dominated the growing meth trade in California. By using routes established by the Colombians to ship cocaine into the United States, Mexican druglords pour chemicals needed to brew meth into rural pockets of California.
Meth is a stimulant that brings about an euphoria akin to the one produced by cocaine. Meth, however, ultimately leads most users to madness and self-destruction.
The drug is cheap and highly addictive. This wicked import now is reaching York County, and that should scare the snot out of you.
Methamphetamine is known on the street as crank. Bikers gave it that nickname more than 30 years ago because its users often became "cranky."
Cranksters become paranoid, violent and ignore pain. They seem to take on super-human strength. California cops dread getting into a fight with one, and I suspect Pennsylvania officers are ill-prepared to battle a meth addict.
As their addictions grow, cranksters abandon food in favor of meth. They become rail-thin, ghostly shells with wide eyes and brown teeth that have inevitably rotted from their mouths. I used to see them every day answering drug charges when I worked in Bakersfield, covering the courthouse.
Some defendants would be old high school friends. A judge once told me he estimated involved meth. It seemed to me the epidemic sprang up overnight.
As a newspaper reporter in Bakersfield, I covered more meth-related crimes than I can remember. Meth is scary evil. These horror stories are real:

Kern County Sheriff's Deputy Rick McHale answered a call about a deranged person in a tiny hovel north of Bakersfield. He found a man high on meth.
McHale charged in before his back-up could arrive. The deputy tangled with the paranoid crankster, who earlier in the day had been sitting on his rooftop and yelling obscenities toward the sun.
On this night, the crankster took McHale's night stick and cracked the deputy several times across the head. McHale lingered for a day or two before he died. The crankster died that night, using the deputy's own gun to kill himself.

Doctors warned Karen Henderson not to breastfeed her newborn baby. They said she could pass meth through her breast milk. She ignored the doctor's orders, and her baby died. The child had been born with a heart defect, and prosecutors alleged that meth passed from mother to child in utero and caused the baby's tiny ticker to stop.
In a case I called "lethal lactation," prosecutors charged Henderson with second-degree murder. Henderson was later convicted of a lesser crime.

A young woman high on crank was lured from the parking lot of the Kern County Fairgrounds by a part-time security guard, probably on the promise of free meth. Before the crankster died, she engaged in sex with five guys. When she declined to perform one final sex act, she was murdered and dumped in a sewer farm.
Indeed, meth is scary evil. Crank is spreading east. And that scares the snot out of me.
Judge: Store employee tip insufficient for stop
By Joe Gerrety, Journal and Courier

For the second time in eight days, a Tippecanoe County judge has ruled that a tip from store employees that a customer had bought ingredients used in the manufacture of methamphetamine was insufficient grounds for a vehicle search by police.
In the latest case, Judge Don Johnson of Tippecanoe Superior Court ruled that a West Lafayette police officer had insufficient grounds to pull over William Roark and look inside his vehicle.
Roark, 51, of Brookston, is charged with conspiracy to deal methamphetamine and having an illegal drug lab based on an encounter with police last Dec. 10 as he drove away from the West Lafayette Wal-Mart.
Roark's attorney, Kent Moore, argued successfully that the evidence gathered after police stopped Roark's vehicle was obtained through an unreasonable search. Johnson granted Roark's motion to suppress evidence, effectively destroying the prosecutor's case.
Capt. Mike Francis of the West Lafayette Police Department said his department had just been informed of the decision and would have no comment until it could review the decision with prosecutors.
Last week, Moore won a similar motion to suppress evidence involving Robert G. Bulington, 24, of Attica, who was stopped under similar circumstances by Lafayette police outside the Lafayette Meijer store.
"I feel very good about the decision in this case and the other case in that Judge Johnson decided that he would follow the Constitution in regard to the government having to justify its intrusion into a citizen's right to privacy," Moore said.
Moore noted that the Indiana Constitution provides even greater protection against unreasonable searches than the Fourth Amendment of the U.S. Constitution.
He said he has a proprietary interest in the Indiana Constitution because his great-great-grandfather, Phineas Kent, helped draft it in 1851.
Prosecutors have said they plan to appeal Johnson's ruling in the Bulington case.
According to testimony from an April 12 court hearing, a West Lafayette police officer acted on a tip from a loss prevention employee at Wal-Mart when he pulled over Roark's GMC Jimmy on Cumberland Avenue as he left the store parking lot.
The Wal-Mart employee had called West Lafayette police because Roark had bought two packages of lithium batteries and appeared to be working with another customer who bought other items seen as ingredients in the manufacture of methamphetamine.
The officer who stopped Roark did not give Roark a reason for the stop before taking his driver's license and registration.
The officer testified that the tip from the Wal-Mart employee was the only reason for making the stop; no crimes or traffic violations were observed.
While talking to Roark, he noticed a Wal-Mart bag inside the SUV, along with a can of Coleman fuel oil and a large number of red and white pills, removed from their packages but still in their blister packs.
Lithium batteries, cold pills containing ephedrine and certain types of fuel are ingredients in the illegal manufacture of methamphetamine.
When the officer asked Roark for permission to search his vehicle, Roark said no. But he did give the officer permission to look inside the Wal-Mart bag, which contained the batteries.
While looking inside the bag, the officer also searched the rest of the vehicle.
But that search never should have occurred, according to Johnson's ruling.
Moore said he doesn't fault police for aggressively pursuing people suspected of manufacturing meth, but added, "I guess I think they're too quick on the trigger."
A more appropriate investigation, Moore said, would be to identify suspects through their purchases and then do surveillance to build probable cause to obtain a search warrant for their homes.